"Paperback Hero" Gallery #5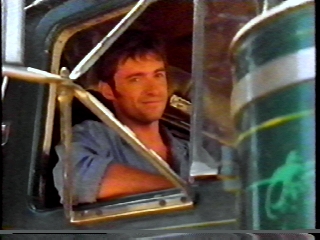 Because this site is "image-prolific" it's best viewed if
your browser does NOT compress the graphics.
Please note that the images herein are the property of their related motion picture/ television concerns, and are displayed here ONLY as a tribute to Mr. Jackman, an acknowledgement of the films and television appearances he's been in, and for the enjoyment of his fans.
---
Videos featuring Mr. Jackman and referred to at this site were procured from: Amazon.com and Blockbuster.com, and local video stores.
Other items were secured from: E-Bay.com. The images produced herein were developed by MKH with the Snappy Video Snapshot hardware and software, and the Paint Shop Pro 6 software.
| | |
| --- | --- |
| While Jack expresses his affection for Ruby, and Ruby watches him on TV, Hamish sees everything... and he understands that Ruby is secretly in love with Jack. She loves Hamish, too, but isn't IN love with him, Hamish understands. | When Jack returns home in his truck, Hamish meets him on the road, and tells him he's stepping aside so Jack and Ruby can be together. Jack is pleased. |
| Happily home again, Jack gets an affectionate welcome-home. He's happy to hear that Ruby has spent some of her money from the book's advance to buy the Boomerang diner for her friend. | Wanting to send a message to Ruby , Jack gets into a small airplane -- even though he's afraid of flying -- and has the bush pilot write "I Love You" in smoke across the sky. |
| The plane drops Jack off on the road right in front of Ruby's jeep (then flies off), but Ruby is still upset. As Jack watches, she storms off into a nearby field. | He knows she can't stay mad at him forever... beside, he tells her, they're out in the middle of nowhere and he needs a ride back home in her jeep. |
| He's right... Ruby forgives him, and they kiss... | ..and kiss, and kiss... |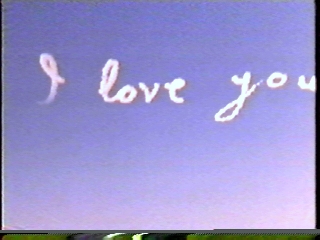 Back to the Main Page
See the X-Men Pages
See the Oklahoma! Pages
See the Someone Like You Pages
---
Although the images are copyrighted by their prospective movie, print, & video companies,
the layout of this website and it's other content are Copyrighted by MKH 2001 (unless noted otherwise).

View My Guestbook
Sign My Guestbook

This Site was Last Updated on:Monday, June 18, 2001
Dynamic Drive DHTML code library
Visit Dynamic Drive for free, original DHTML scripts and components,
all of which utilize the latest in DHTML and JavaScript technology!