The Hugh Jackman Appreciation Site
http://wolvarianrift.tripod.com/hughjackman/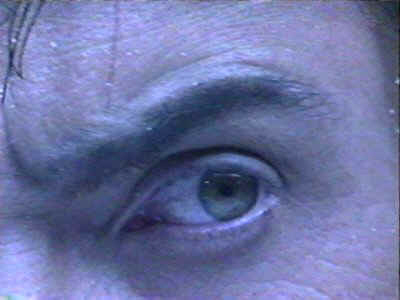 Because this site is "image-prolific" it's best viewed if
your browser does NOT compress the graphics.
Please note that the images herein are the property of their related motion picture/ television concerns, and are displayed here ONLY as a tribute to Mr. Jackman, an acknowledgement of the films and television appearances he's been in, and for the enjoyment of his fans.
---
Videos featuring Mr. Jackman and referred to at this site were procured from: Amazon.com and Blockbuster.com, and local video stores.
Other items were secured from: E-Bay.com. The images produced herein were developed by MKH with the Snappy Video Snapshot hardware and software, and the Paint Shop Pro 6 software.
---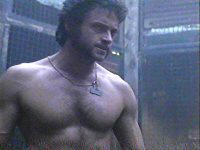 Okay, so I'm a sucker for a handsome face (and body), and Mr. Jackman has them both. Following are links to some of my favorite images of Hugh Jackman as "The Wolverine", Logan, in the the film "X-Men". (And, yes, I AM aware of how "exploitive" some of these images may appear to someone who hasn't seen Mr. Jackman's films.)
X-Men Gallery 1: Logan Finds His Way to the X-Men
Besides his physical attributes and prowess, I really admired the acting work and heart Mr. Jackman put into the character of Wolverine in this film. The character went from being a self-destructive, rage-filled loner to a team player, full of compassion and heroism. A delicate balance was maintained by Mr. Jackman throughout the film that always kept Logan, no matter how angry and vengeful, a complex man who was very human, emotionally vulnerable, and utterly believable. No wonder this performance got Mr. Jackman so much public recognition. He did an excellent job.
CLICK on the images to reveal its larger (generally 400x300) counterpart.
| | | |
| --- | --- | --- |
| The cage fight scene in "X-Men" | The cage fight scene in "X-Men" | The cage fight scene in "X-Men" |
| The bar scene in "X-Men" | The bar scene in "X-Men" | Driving through the snow from "X-Men" |
| Logan heals instantly after being thrown from a moving truck in "X-Men" | Logan senses that some predator is near in "X-Men" | Logan is treated by Dr. Jean Gray, a telepathic doctor with psychokinetic abilities, at Professor Xavier's School for Gifted Youngsters, in "X-Men" |
MORE GALLERIES
CLICK on the gallery name to see more images of our favorite X-man.
X-Men 2: Logan's First Day at
Professor Xavier's School for Gifted Youngsters
This Gallery includes 21 images from the film, from the moment Logan awakens in the medical wing of the mansion, to the night his nightmares cause him to accidentally attack Rogue.
X-Men 3: Logan and Rogue and the Train Depot
This Gallery includes 9 more images from the film, plus an animated GIF of Logan in the medical wing of Xavier's mansion.
X-Men 4: Logan Joins the X-Men Team
This Gallery includes 23 more images from the film, from the moment Logan gets on the X-Men, through the Statue of Liberty scenario, and the final scenes of the movie.
---
Someone Like You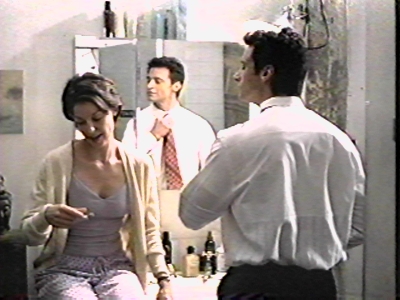 These Two (2) Galleries contain a total of about 20 images from the preview trailer of this film starring Hugh Jackman, Ashley Judd and Greg Kinear. The movie is slated to be released on video soon.
---
OKLAHOMA!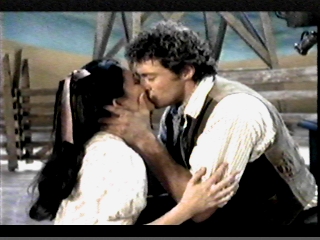 These Six (6) Galleries contain over 90 images from the television rendition of this stage play in which Hugh Jackman starred as "Curly".
---
"Paperback Hero"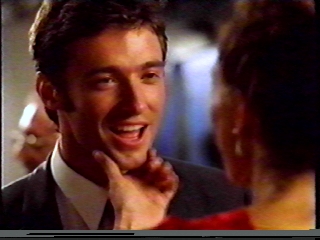 These five Galleries contain about 60 images
from this film, in which Hugh Jackman starred as "Jack".
---
More Hugh Jackman Sites

This RingSurf - Hugh Jackman Ring site
is owned by MKH
Previous 5 | Previous | Next | Next 5 | Random Site | List Sites
---
Although the images are copyrighted by their prospective movie, print, & video companies,
the layout of this website and it's other content are Copyrighted by MKH 2001 (unless noted otherwise).

View My Guestbook
Sign My Guestbook

This Site was Last Updated on:Monday, June 18, 2001
Dynamic Drive DHTML code library
Visit Dynamic Drive for free, original DHTML scripts and components, all of which utilize the latest in DHTML and JavaScript technology!