"Paperback Hero"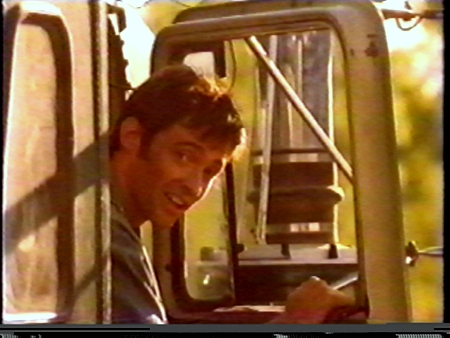 Hugh Jackman starred as "Jack" a truck driver in Australia who writes a successful romance novel but is too embarrassed to tell anyone he's the author when the book is picked up by a major publishing company... We liked this sweet, simple story a lot.
Because this site is "image-prolific" it's best viewed if
your browser does NOT compress the graphics.
Please note that the images herein are the property of their related motion picture/ television concerns, and are displayed here ONLY as a tribute to Mr. Jackman, an acknowledgement of the films and television appearances he's been in, and for the enjoyment of his fans.
---
Videos featuring Mr. Jackman and referred to at this site were procured from: Amazon.com and Blockbuster.com, and local video stores.
Other items were secured from: E-Bay.com. The images produced herein were developed by MKH with the Snappy Video Snapshot hardware and software, and the Paint Shop Pro 6 software.
---
| | |
| --- | --- |
| Jack is truckin' with his dog. | He has to stop the truck abruptly when Ruby does a fly-over in her airplane and covers his truck with field spray. |
| Later, as he pulls into the parking lot of the Boomerang diner, Jack shouts angry when he finds Ziggy has parked in his space and he can't stop his truck fast enough to avoid smashing into it. | Jack apologizes to Ziggy for wrecking her car. |
| Jack realizes Ziggy is a publisher. | Jack gets Ruby to quiet down and listen to him. |
| Embarrassed, Jack explains to Ruby that he's written a romance novel under HER name, and Ziggy has come to offer her a publishing deal. | In the Boomerang diner, Jack stands at the pool table and listens in on Ziggy's and Ruby's conversation. No one has told Ziggy that JACK is author of the book. |
| When Ziggy leaves to make a phone call, Jack tries to convince Ruby to continue to pretend that she is the author of the book. | When Ruby is reluctant to go along with the "scam", Jack offers her his $3000 advance check, and a percentage of the proceeds from the book -- to help pay for her wedding to her fiancÚ, Hamish. |
| Jack is very pleased when Ruby reluctantly agrees to help. | On to the Paperback Gallery #2 |
Back to the Main Page
See the X-Men Pages
See the Oklahoma! Pages
See the Someone Like You Pages
---
Although the images are copyrighted by their prospective movie, print, & video companies,
the layout of this website and it's other content are Copyrighted by MKH 2001 (unless noted otherwise).

View My Guestbook
Sign My Guestbook

This Site was Last Updated on:Monday, June 18, 2001
Dynamic Drive DHTML code library
Visit Dynamic Drive for free, original DHTML scripts and components,
all of which utilize the latest in DHTML and JavaScript technology!