Oklahoma! Gallery #2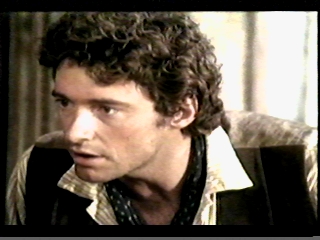 Hugh Jackman as "Curly"
Because this site is "image-prolific" it's best viewed if
your browser does NOT compress the graphics.
This Site was Last Updated on:Sunday, June 24, 2001

Please note that the images herein are the property of their related motion picture/ television concerns, and are displayed here ONLY as a tribute to Mr. Jackman, an acknowledgement of the films and television appearances he's been in, and for the enjoyment of his fans.
---
Videos featuring Mr. Jackman and referred to at this site were procured from: Amazon.com and Blockbuster.com, and local video stores. Other items were secured from: E-Bay.com. The images produced herein were developed by MKH with the Snappy Video Snapshot hardware and software, and the Paint Shop Pro 6 software.
---
Gallery #2:
This Gallery contains about 12 more pictures from the play, including the "who's inviting who to the box lunch social" scene and the song: "People Might Say We're In Love"
(It may take a while for all the images to load)
(The midi playing is "People Will Say We're In Love" found through Musicrobot.com)